Don't ignore the entrancing beauty of Halloween flowers when pumpkins, ghosts, and skeletons command attention.
Halloween presents a special chance to decorate your home in a spooky and enchanting way as the cool autumn air brings in the season of mystery and enchantment. Don't ignore the entrancing beauty of Halloween flowers when pumpkins, ghosts, and skeletons command attention. In this article, we'll look at a selection of flowers that wonderfully capture the Halloween atmosphere as well as imaginative flower arrangement ideas that will give your festive celebrations a touch of eerie elegance.
Black Roses
Black roses, with their dark and velvety petals, exude a sense of mystery and drama. While true black roses are rare, varieties like 'Black Baccara' showcase deep, dark red hues that give the illusion of black in low light. You can order flowers in st. louis for your halloween roses or you can DIY by combining black roses with deep purple calla lilies and dark foliage, such as eucalyptus or black lace elderberry, for a bewitching bouquet. Place them in dark vases or cauldron-like containers for added effect.
Purple Calla Lilies
Purple calla lilies, with their elegant, trumpet-shaped blooms, add a touch of sophistication to halloween flower arrangements. They come in various shades of purple, from deep plum to lighter lavender at florist in st louis mo. You can always create a striking contrast by pairing purple calla lilies with orange and black dahlias. Arrange them in tall, slender vases or gothic-style candle holders for a hauntingly beautiful centerpiece.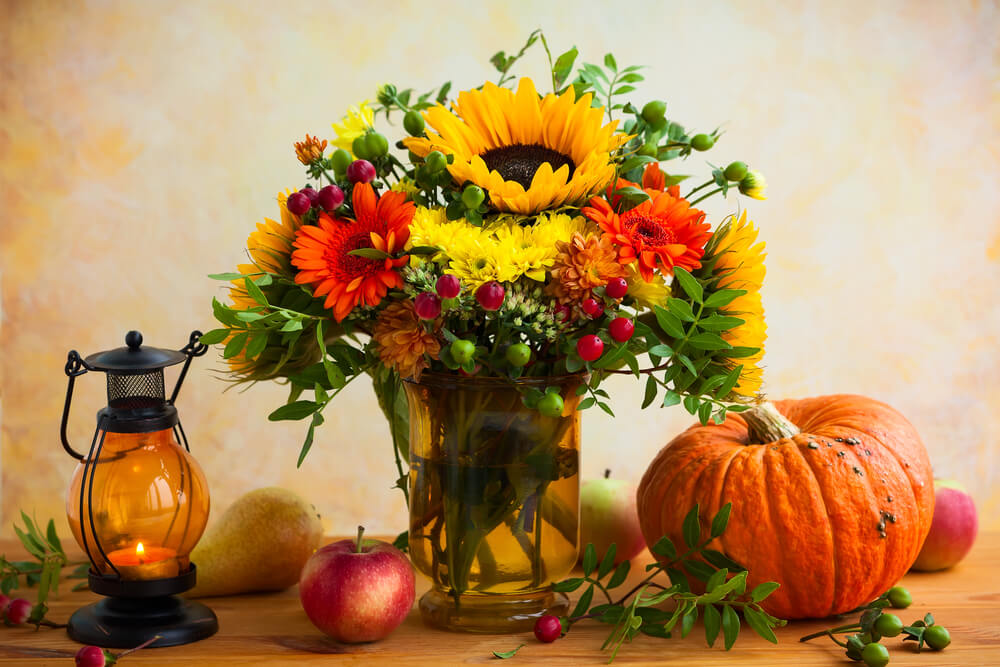 Orange Gerbera Daisies
With their vibrant and cheerful orange hues, gerbera daisies bring a pop of color reminiscent of autumn leaves. They symbolize positivity and joy. If you are wanting to send halloween flower bouquet to friends and family then these are a great pick. Mix orange gerbera daisies with deep red carnations and dark foliage like ivy or ferns. Arrange them in a carved pumpkin vase or scatter them across your Halloween table for a lively and festive display.
Blood Red Chrysanthemums
Chrysanthemums in deep, blood-red tones evoke a sense of mystery and drama. These fall-blooming halloween flowers are available in various shapes and sizes.
Combine blood red chrysanthemums with black calla lilies and dark green succulents. Place the arrangement in a black cauldron or a tarnished silver vase for a touch of vintage spookiness. You can also send halloween flowers with flower delivery in St Charles mo as this makes sending flowers hassle free and quick.
White Spider Mums
Spider mums, with their long, slender petals, resemble spider legs, making them a perfect addition to Halloween decor. They come in various colors, but white adds an eerie touch.
Create a monochromatic display by arranging white spider mums with white pumpkins, white candles, and silver accents. You can also go with halloween plants like spider plant for a similar feel. Make sure to add spiderweb details to the vase for an extra spooky effect.
Black Calla Lilies
Black calla lilies, with their unique and elegant shape, add a touch of mystique to floral arrangements. Their deep black color enhances the Halloween theme. Pair black calla lilies with dark purple and burgundy roses which you can easily get with st louis flower delivery. Arrange them in a tall, slender vase with trailing ivy or black ribbon for a gothic and romantic centerpiece.
This Halloween with irene's floral design, let the enchantment and mysticism of flowers fill your surroundings. Utilize the vibrant hues and distinctive forms of Halloween flowers to make beguiling bouquets that go well with the macabre atmosphere of the season. These flower arrangement suggestions will bring a bit of eerie beauty to your Halloween celebrations, whether you use them to decorate your door, dinner table, or mantle.